Creation vs Evolution Debate (Comments)
A person who calls himself TVL left a comment on a June 2006 post about
Creation vs. Evolution Debate
vidos. In my response I said that I would post photographs of ancient art that shows humans and dinosaurs together. All it would take is one piece of art, from 1000 years ago, showing a dinosaur and that would be proof that humans and dinosaurs lived together. But there is much more than just one, there are hundreds.
The art does not even have to show people and dinosaurs together, because: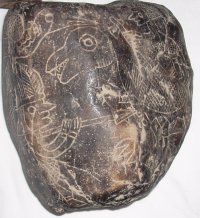 1. Obviuosly there was a person there, because the person made the art.
2. If the art shows an accurate representation of a dinosaur (which it does), there is no other way for the artist to know what a dinosaur looked like unless he saw one, live and in-person. Ancient people did not dig bones out of the ground and try to assemble them into skeltons.
There is not just one or two paintings and carvings showing dinosaurs, there are thousands from many different cultures around they world. They show many different types of dinosaurs, and they show them correctly. That's something we have not always been able to do. For example, for many decades the brontosaurous was considered the largest dinosaur. But, scientists had the wrong head on this dinosaur. That mistake was recently corrected. However, ancient art unearthed nearly 100 years ago shows this dinosaur with the correct head.
What is shown in this post are two ica stones from Peru. The one above shows two people fighting with a dinosaur. The one in front of the dinosaur is attacking it with a spear. There is also a person behindthe dinosaur attacking it with an ax. This carving was made about 1000 years ago and buried as a part of a funeral.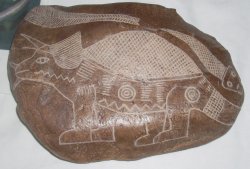 Here is a second ica stone, also about 1000 years old, that clearly shows a different type of dinosaur.
In addition to ica stones, there is other art such as: a carving of a dinosaur in a Cambodian temple; Native America rock petrogliphs showing dinosaurs; tapistries showing dinosaurs; there is even a book from 16th century Europe, that catalogs all the animals existing at the time in Europe... and the catalog includes dinosaurs.
Dinosaurs are even mentioned about 40 times in the Bible.
To see ancient art showing dinosaurs visit:
http://www.bible.ca/tracks/dino-art.htm.

This web site does not show very good web design skills, but it does have very good pictures.